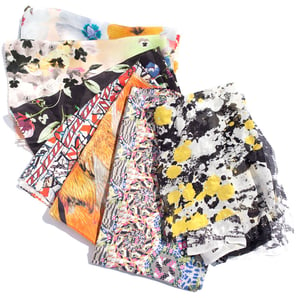 $

35.00
An assortment of printed original Eye Dazzler silk pieces. Great for any art, craft or fashion project. Each set is different and full of opportunities. Get yours and see what you can create!
Actual set of prints will vary from pictured. All sets will have a similar amount of fabric, on average around 5 fabric swatches of 26"X36" in dimension and are 100% silk.
Please allow 3-7 days for shipping. All orders are shipped Fedex ground.
For international orders, please contact us directly to place an order.
Thanks!